Top 10 romantic things to do in Bali
Is a Bali honeymoon on your shortlist for 2019? The Indonesian island is considered to be one of the world's most romantic destinations. Showcasing a dramatic landscape which includes several active volcanos, beautiful beaches and coral reefs, as well as swathes of shrines and temples, it makes a stunning setting for post-wedding pampering. But there's much more to this honeymoon hotspot than luxury hotels and evening cocktails, so we've compiled our top 10 romantic things to do in Bali.
See the sunrise
Mount Agung and Gunung Batur are Bali's most iconic – and imposing – mountains. Towering above the tropical world below, both offer spectacular views of the island. Trekking to the top of either active volcano is far from a walk in the park, but the rewards are rich. Take your pick of tours that will guide you to one of the peaks during dry season, and add a romantic twist by traversing the terrain in darkness to reach the summit for a spectacular sunrise – where you can enjoy an authentic Balinese breakfast.
Couples' cooking classes
Balinese cuisine is varied, colourful and fragrant, and sampling local delicacies is a great way to gain insight into the island's culture and traditions. But if you want to try something new together, why not go one step further and book a cooking class? Choose from a number of culinary quests across the island, from private cooking parties for two to intimate classes in Balinese family homes, or even combine your cooking with an exciting market tour.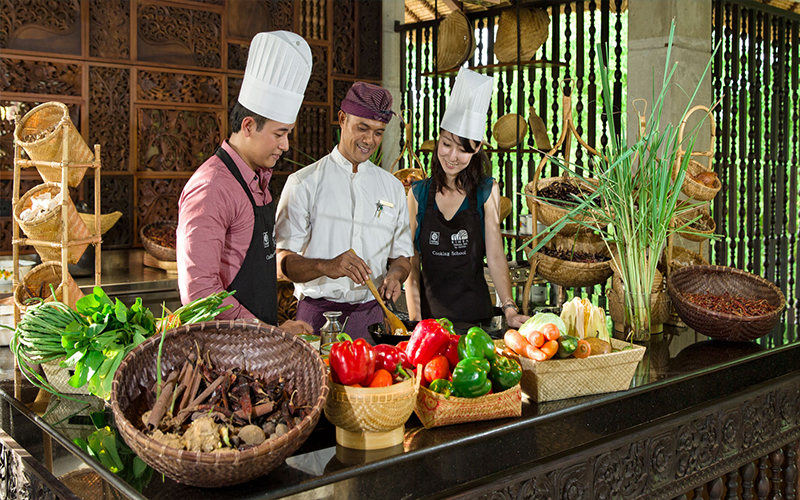 Yoga in Ubud
The beating heart of Bali, Ubud's creative, craft and wellness activities regularly draw newlyweds towards its charms. Unwind after your nuptials, and recover from the party, at one of the scenic town's popular yoga centres or retreats. Whether you know your hatha from your vinyasa, want to get the giggles at laughing yoga or are a complete beginner, there's something for everyone in this holistic haven. Just grab a mat and pick a studio that suits you – preferably with panoramic views of rice paddies, streams and coconut trees.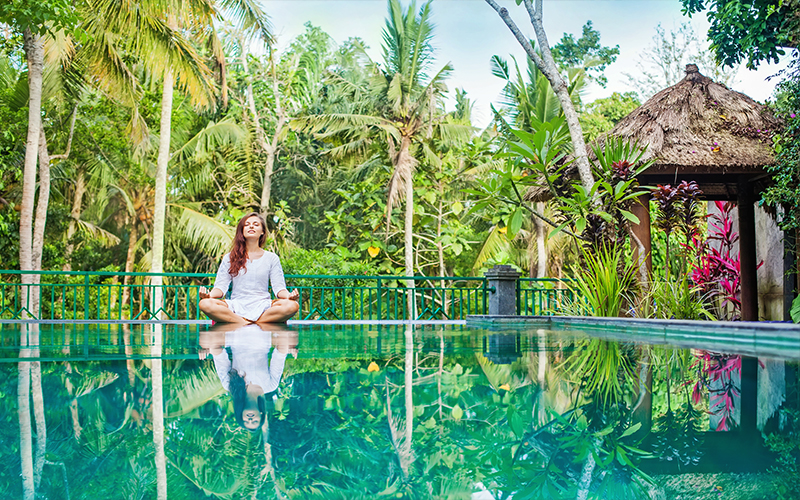 Sweet like chocolate
Hands up whose ideal honeymoon involves chocolate? Take a tour at one of Bali's chocolate factories or cacao plantations and see how beans turn into bars, while sampling something sweet yourself. Everyone needs a break from the beach at some point, and visiting the thriving chocolate production scene makes for a decadent couples' day trip.
Monkey Around
The Sacred Monkey Forest Sanctuary, also known as Monkey Forest Ubud, is one of Bali's most famous attractions. Stroll through the sprawling forest, which houses around 700 long-tailed monkeys as well as three of the island's most prominent temples.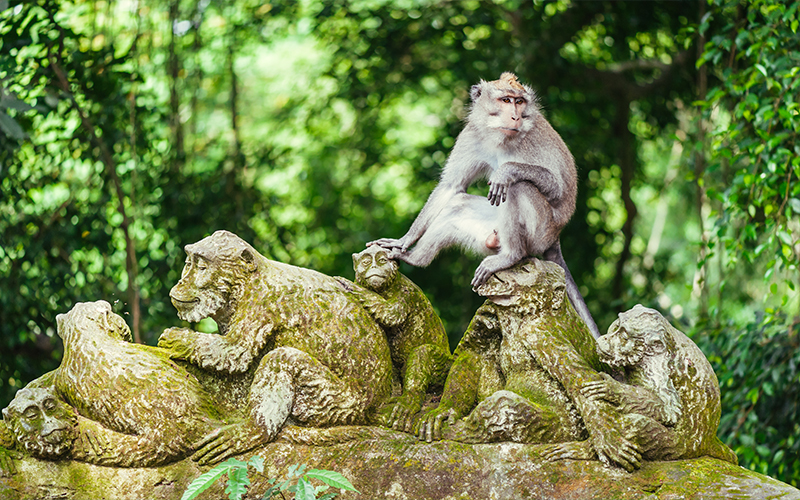 Elephant Cave
Visit Goa Gajah, the 'Elephant Cave', a spiritual site steeped in folklore. Explore the ancient complex, which features Buddhist and Hindu idols and is decorated by eerie carvings of stone faces, before immersing yourself in the striking scenery surrounding it.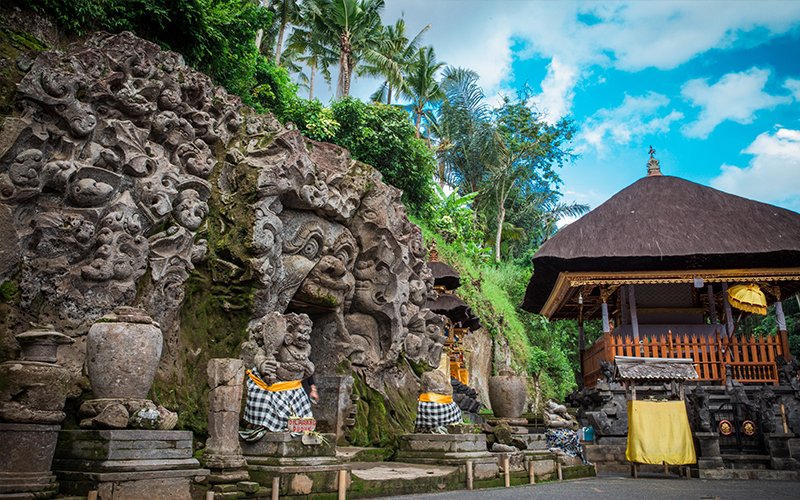 Sunset dinner
Uluwatu Temple, one of the island's most revered Hindu sites, is set atop a 100m cliff overlooking the Indian Ocean – making it the ultimate vantage point for one of Bali's magical sunsets. Make the moment even more memorable by booking a tour which pairs the experience with 'kecak', a performance of traditional Balinese fire dance, and a beach barbecue.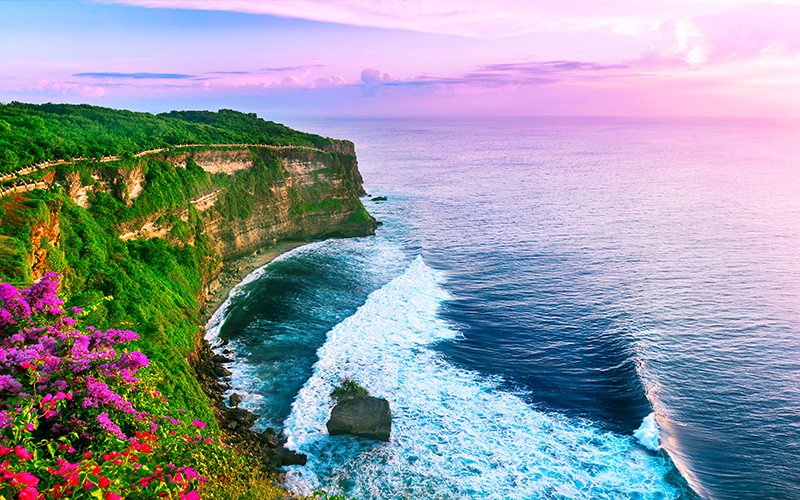 Walk to a waterfall
Not simply about sun, sand and sea, Bali is blessed with waterfalls, and what's more romantic or photo-worthy than a wall of tumbling water? Whether you want to stick with a local tour guide or get off the beaten track, there are plenty of falls to pick from. From the famous Gitgit to the lesser-known Banyu Wana Amertha, there's ample opportunity to bathe in crystal-clear lakes or navigate your way through lush jungle and caves.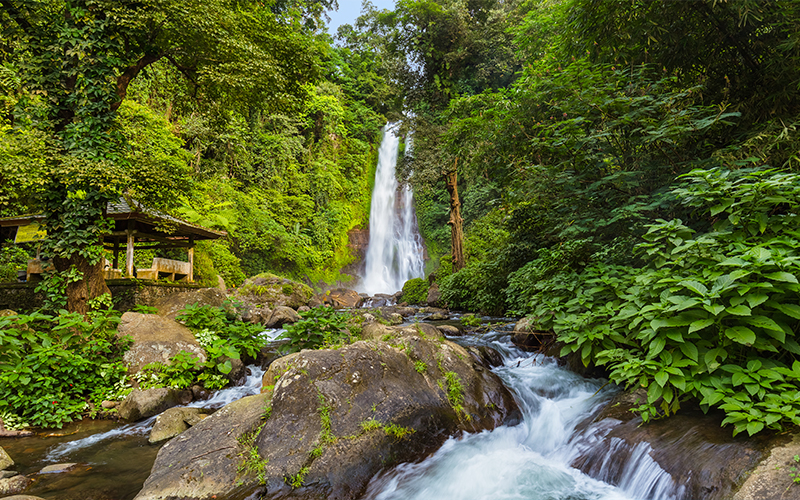 Silver and gold
One of the most unique things to do in Bali is to visit a silversmith or goldsmith. Thanks to the many jewellery showrooms that pepper the island, you can gain a fascinating insight into traditional techniques at a number of workshops, and even craft a personal piece for your loved one.
Dive a shipwreck
Bali boasts a great number of underwater sites for world-class snorkelling and diving – and none more famous than the USS Liberty Shipwreck. Home to an array of marine life, including hundreds of varieties of tropical fish, the sunken ship has shallow and deep areas suitable for exploration – meaning it's a delight for both beginners and experts alike, at day or night.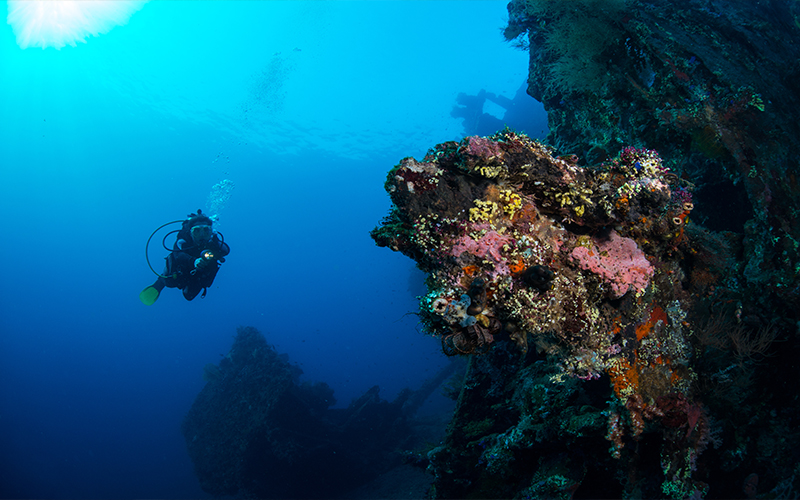 Get in touch with us at Honeymoon Dreams – call us on 0121 440 6268 or enquire online  – and we can help tailor-make your dream trip.