Thomas and Annmarie's honeymoon escape to Vilamendhoo Island, Maldives
Our lovely clients, Thomas and Annmarie, spent nine amazing nights at the private Maldives island, Vilamendhoo Island. We caught up with them to give us the low-down on there honeymoon of a lifetime. Read on to find out all about their wonderful experience…
'We flew from Birmingham Airport in the afternoon. The flight was amazing as we had never flown with Emirates before, there were plenty of movies to choose from, great choice of food and drinks and plenty of space to recline seats.'
'We are glad to say that upon arrival, the journey was long forgotten. We were 'wowed' and couldn't believe we were in paradise'.
'We arrived at Vilamendhoo Island in Maldives via seaplane transfer and were greeted by the lovely staff with cold towels and a refreshing cool drink. They then talked us through the island showing us what was on offer on our 9 night stay'.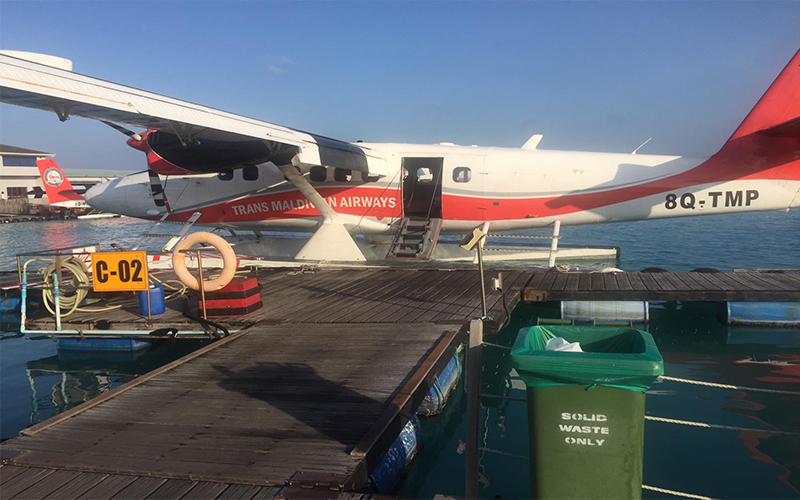 'After, we were taken to our room, we stayed in a Beach villa with Jacuzzi which was located on the south side. We thought this was the best one on the island as it was only a few steps away from the sea and it was only a short walk away from the sunset bar. The King size bed was decorated with flowers and the hotel staff left us a welcome greeting card, complimentary fruit plate and sparkling bottle of Champagne, which we thought was a lovely start to our honeymoon. While we stayed there, our room was also cleaned twice a day and the mini bar was restocked and fresh towels were provided each day.'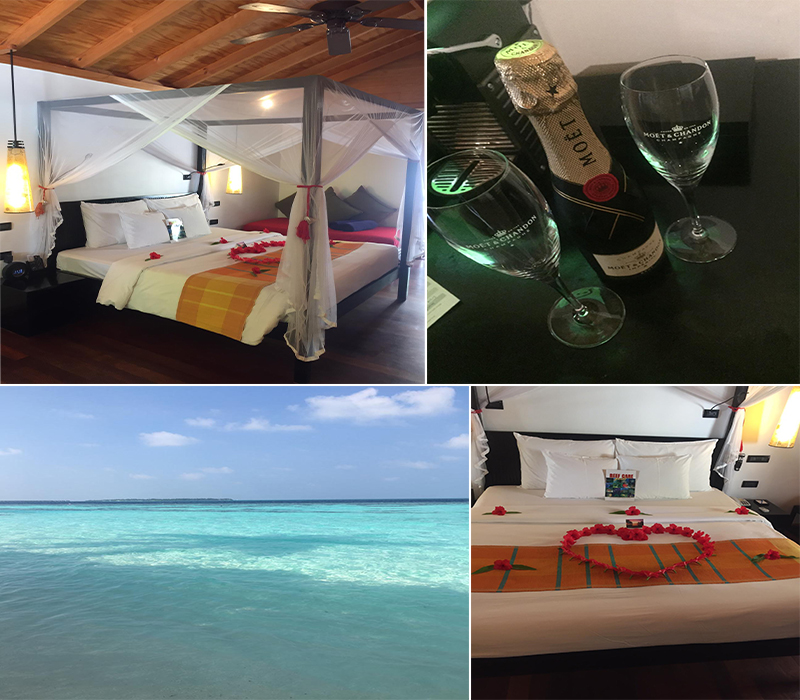 'Our room was also situated next to our allocated restaurant, Ahima Restaurant, which served us great food three times a day.  As well as having the best waiter, the food was incredible. Every evening the buffet style restaurant had a different theme, which kept the food options very different. Throughout the stay, as it was all inclusive we had plenty to choose  from as well as a live cooking station, where the chef would cook fresh pasta, noodles, meat and fish.'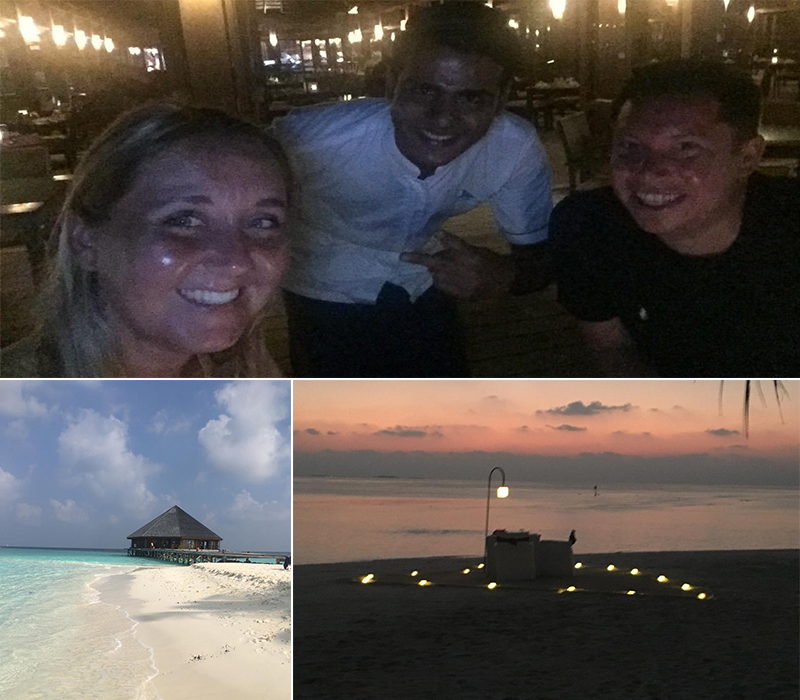 'On most evenings, before dinner we would watch the sunset in the Sunset bar with a cocktail or two.'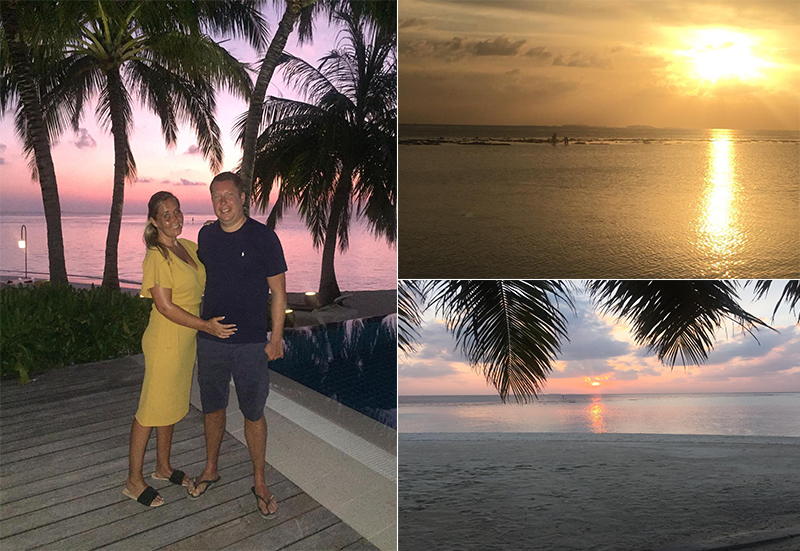 After dinner, we headed to the Bonthi Bar, the main bar which was open for food and drinks 24 hours, it had entertainment each night from live music, karaoke, movie night to sports night culture and disco night. We also had a full moon bbq on the beach that was beautiful too.'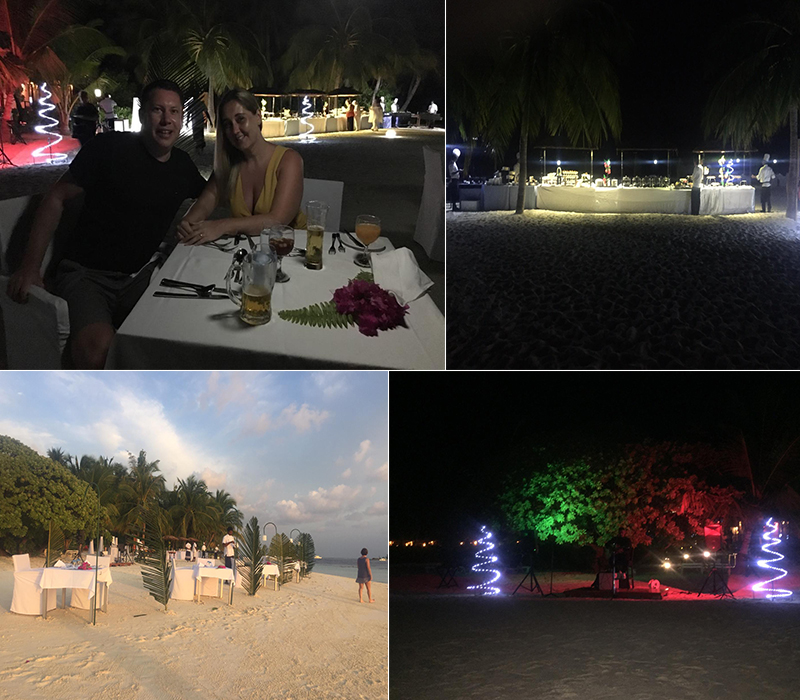 'While we were there, we spent most of our days relaxing in the sun as it was over 30 degrees with most days not having any clouds in the sky. We would also take a dip in the adult only infinity pool, here we relaxed and spent almost everyday being waited on by friendly staff bringing us what ever refreshments we requested.'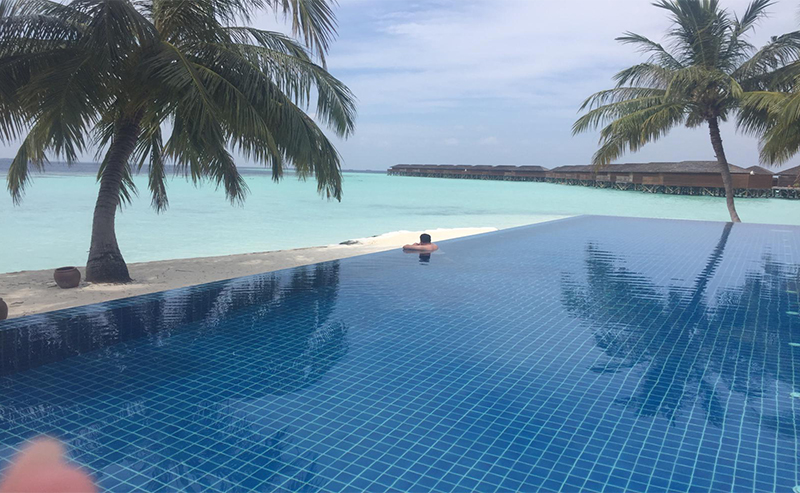 'As well as that the stunning hotel also featured an overwater spa, where we both enjoyed a 1 hour and 15 minutes full body massage. Whilst you are having a massage you can look into the ocean and watch the fishes below in the glass bottom floor panels, it is so peaceful and relaxing. When finished they take you to a room with reclining beds over the ocean where you unwind and they bring you refreshments. Even though you have to pay for this depending on your package, it is well worth it.'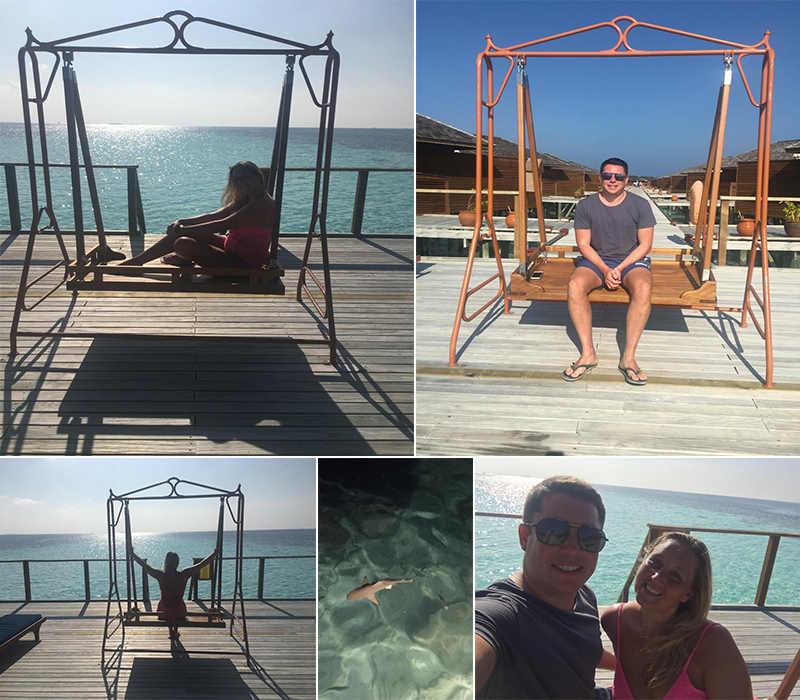 'There were plenty of other facilities and activities available at the resort to keep us entertained too. We took advantage of the gym most mornings so we could enjoy the delicious food without feeling so guilty of not exercising, went on a guided snorkelling trip on the best house reef where we saw little sharks, played a football match against the staff and visited the local island. Not only that we also had the choice to go on a Sunset cruise excursion, which was great but we got a bit of sea sick, so next time we decided to stay back on the island instead.'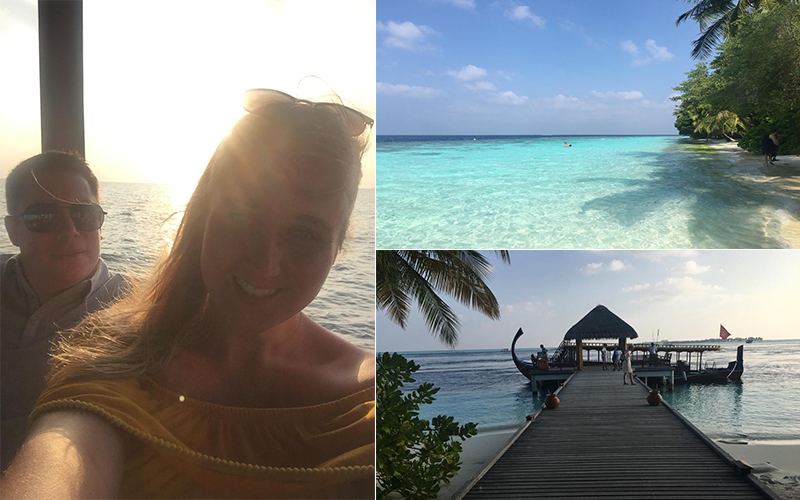 What were the highlights of your honeymoon?
'The overall honeymoon was very special as we made many great memories. The Maldives was meant to be that once in a lifetime experience and it certainly was. It really is paradise and we already can't wait to go back. It was like something you see on a picture-perfect postcard everyday, the views were breathtaking each and everyday. The top highlights of the honeymoon at Vilamendhoo Island was the overall location of the hotel, our amazing room, delicious food and the full moon BBQ beach dinner.'
Any tips and recommendations for couples who would want to go to Vilamendhoo Island, Maldives?
'We would definitely recommend doing a few nights at Vilamendhoo Island, Maldives. As it is the perfect place to relax and there is so much to see and do. One tip for anyone who wants to go snorkelling while they are there, do take your own snorkelling equipment as it's expensive to hire. Also, we booked the no.1 lounge which was brilliant but we would not recommend that lounge, we personally prefer Aspire lounge as it is much better value for money.'
How was the service that you received from your Travel Agent during your booking process?
'The service was excellent, as we were kept up to date about our booking. I also had many questions to ask and they were answered straightaway by our honeymoon specialist, Karen.'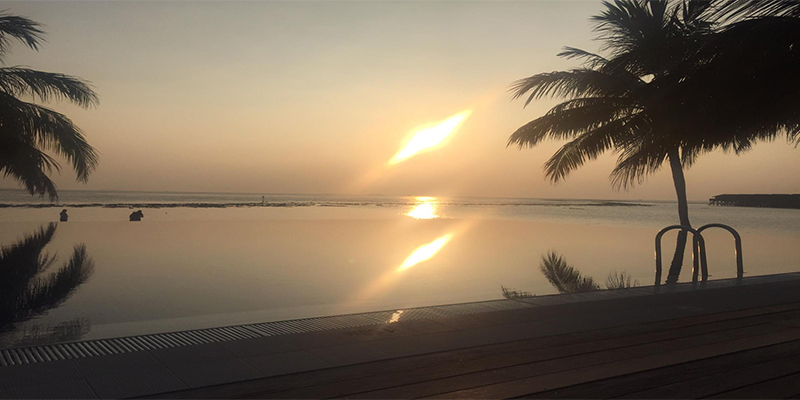 Inspired by Thomas and Annmarie's honeymoon escape to Vilamendhoo Island, Maldives? Call us or request a quote to stay here too.