Robert and Samantha's Singapore and Maldives honeymoon
At Honeymoon Dreams, we love to create memorable honeymoons for our clients by handpicking hotels that we know they will love. Recently, our lovely clients, Robert and Samantha spent two amazing weeks in the bustling world-class city of Singapore and heavenly Maldives. Read on to find out about Robert and Samantha's fabulous honeymoon experience in one of our most popular multi-centre packages…..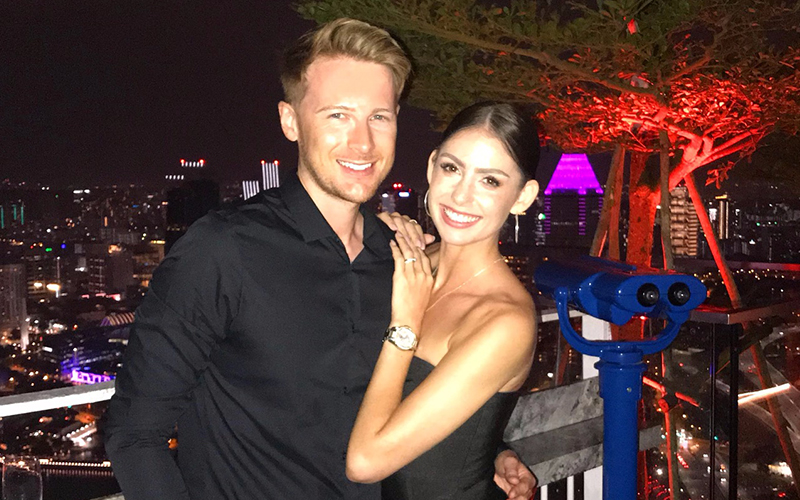 'Before we got onto our flight we got to wait in one of the airport lounges at London Heathrow, away from the hustle and bustle of the airport, which was a great start to our honeymoon.'
'Our flights were excellent and the staff on board were really efficient! We had decided on some good flight times with the help of Verity our travel agent, so that already made for a comfortable journey there and back. The staff on board the flight to Singapore also surprised us with champagne, cake and a card which was so thoughtful, and helped us to begin our honeymoon in style.'
Singapore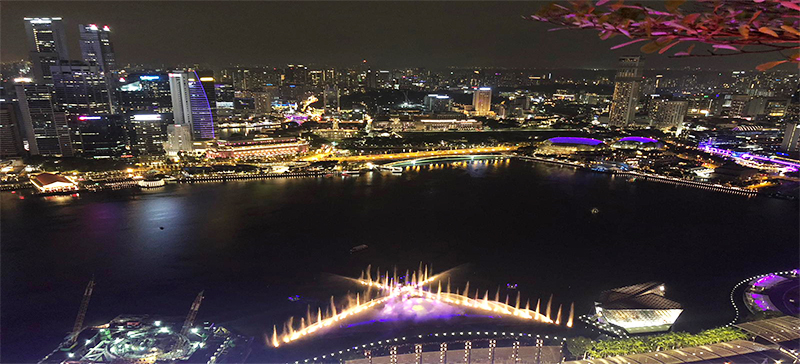 'We loved staying at the Pan Pacific in Singapore as from the second we arrived everyone was so attentive and welcoming. The hotel has everything we needed, luxurious room, great restaurants, and an incredible view of the Marina.'
'We tried to make the most of our stay in the Pan Pacific despite being out exploring for most of the day! Our room was on the 23rd floor and had an amazing panoramic view of the Bay, a huge bath to relax in after a day of walking, and super comfy beds. The staff at The Pan Pacific had a luxury dessert sent to our room once we had been shown in, which actually happened twice – this was a lovely honeymoon benefit.'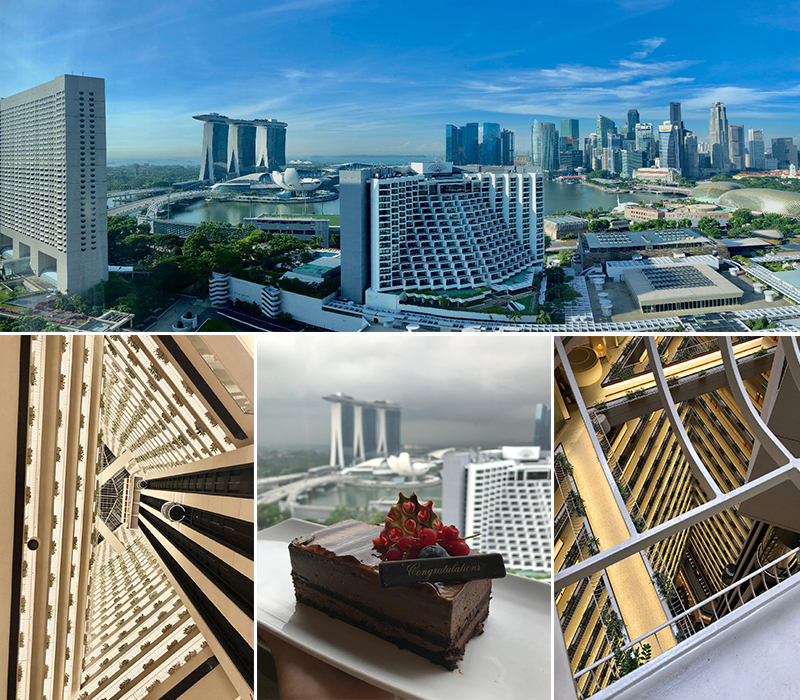 'The food was amazing too, from the buffet style breakfasts at the Pan Pacific to a top meal at Hawker centre in Singapore's Chinatown which has been awarded a Michelin Star, here we ate Soy Chicken and noodles which was delicious. Our meal at Lavo in Marina Bay Sands, was also amazing, we chose chargrilled Octopus to share!'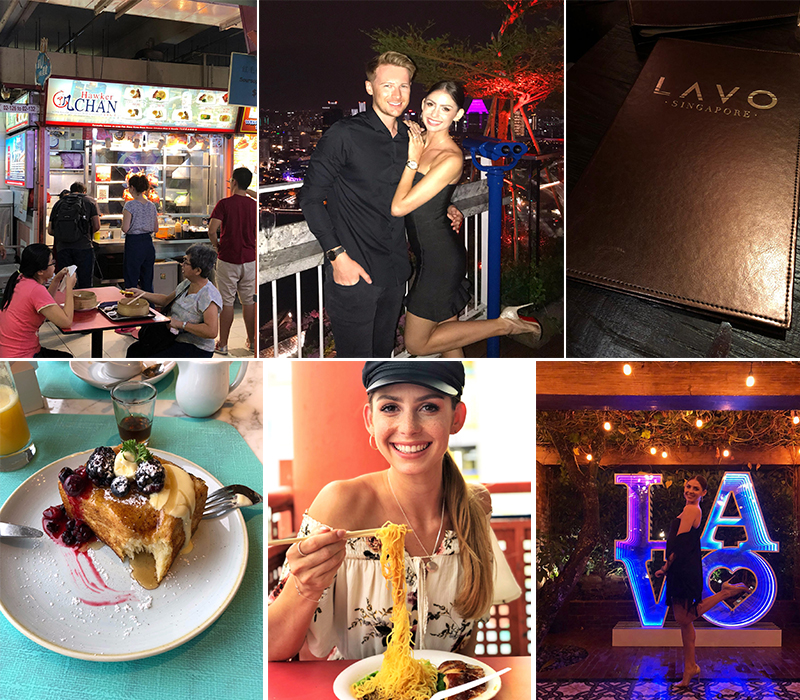 'We would get up in the morning and head to the 38th floor for a champagne breakfast, and enjoy our food while watching the city wake up, and then head down in the lifts which were made out of glass, so really cool to look out of over the city while going down or up! We would be welcomed back in the afternoon by the hotel staff and after getting ready for our evening, head back up to the 38th floor to thoroughly enjoy the cocktails and canapés hours and watch the lights of the city turn on as we enjoyed a Singapore Sling or 2.'
'We had three days in Singapore, so we set ourselves a little itinerary for while we were there.'
'Our first day we spent walking around the famed Gardens by the Bay. We wandered in awe beneath the Super Trees (which I thought felt like walking in Pandora from Avatar), we explored the Cloud Forest and then the Flower Dome. They have orchids so tiny in there that you need a magnifying glass to see them!'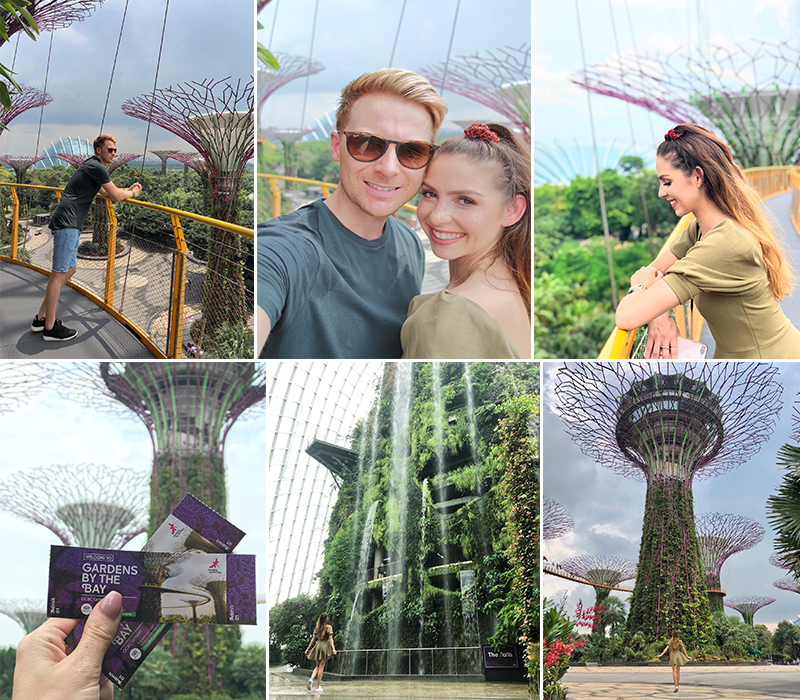 'We returned in the evening to watch the light show, which happens every night. It was amazing, while we were there we watched the lights and the famous musical songs.'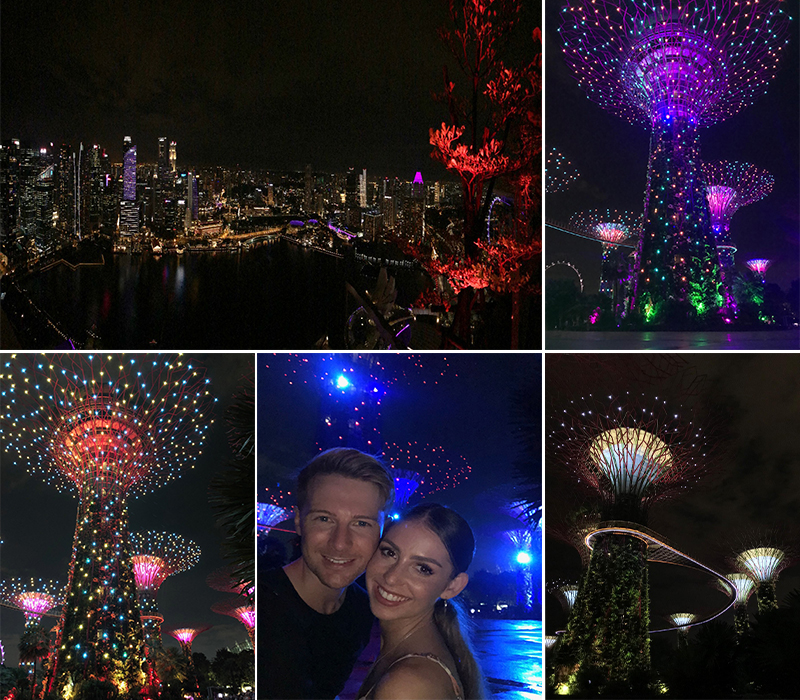 'Our second day was a day of fun – we went to Universal on Sentosa and rode the rides. That evening we saw the skyline from atop the Singapore Flyer which is similar to the London Eye, and then went through the shopping centre at Marina Bay Sands to explore the glittering shops, before heading back to the Pan Pacific.'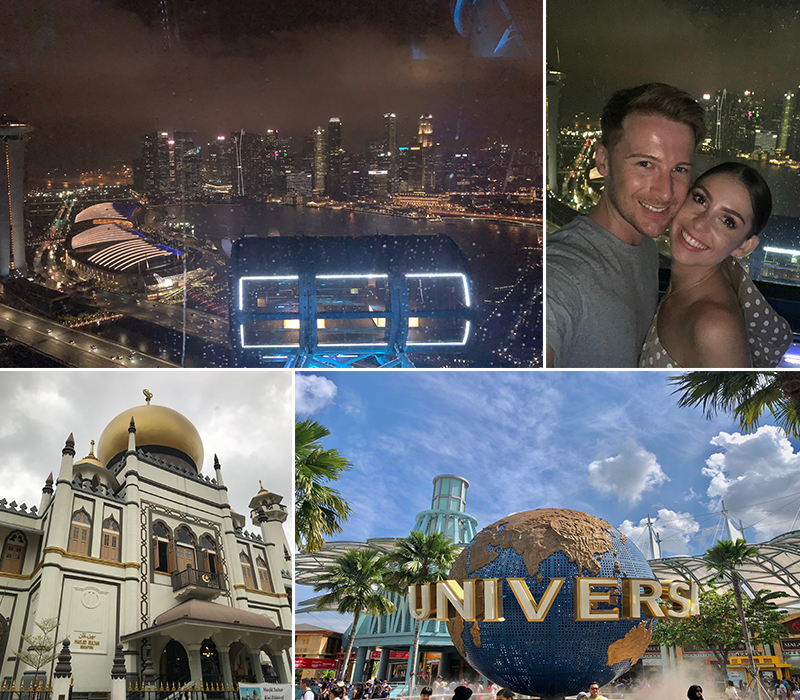 'On our last day, we explored further into Singapore itself –  we visited the Art Science museum, strolled through hip Haji Lane and checked out the restaurants at Clarke Quay.'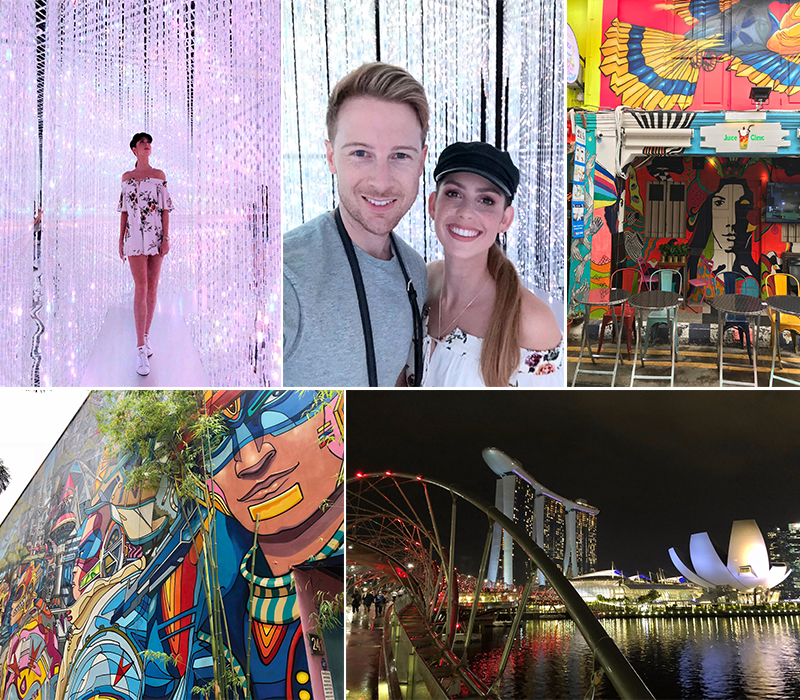 'We even walked to Chinatown, saw the Buddha tooth Relic Temple, and ate at a Michelin Star stall in the Hawker centre nearby. Then after a final evening of cocktails back up on the 38th floor, we dined at 'Lavo' an italian restaurant, atop of Marina Bay Sands.'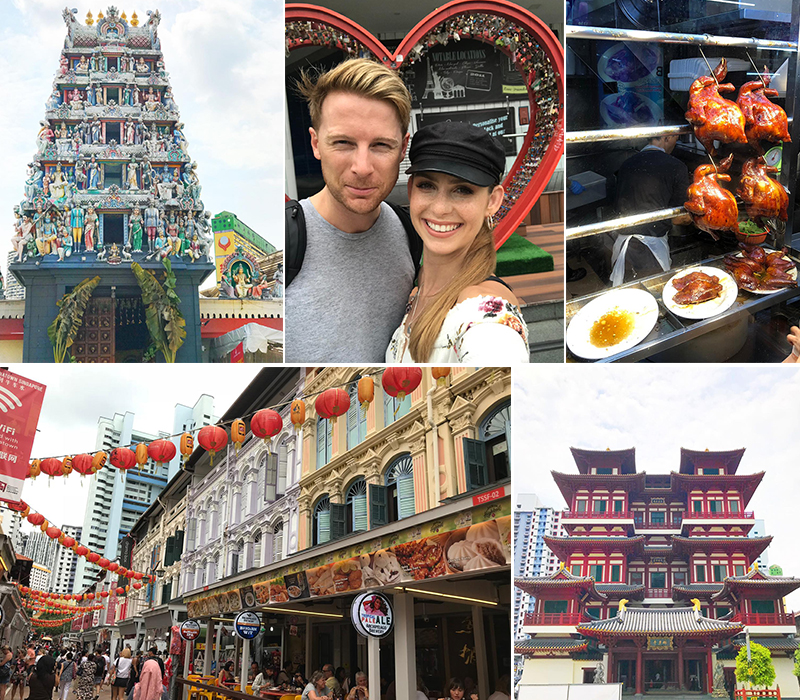 Maldives
'Our next destination was Kuramathi in the Maldives which was total luxury from start to finish. You are surrounded by the incredible blue sea, gorgeous green trees and the famed white sand beaches.'
'We arrived by seaplane and on arrival we were told that we had been booked onto a champagne sunset cruise, and on top of that, an evening of cocktails and canapés at the resorts popular Champagne loft, to watch the sun set from there, which we thought was an amazing honeymoon gesture. Everyone here was so welcoming and made our stay even better.'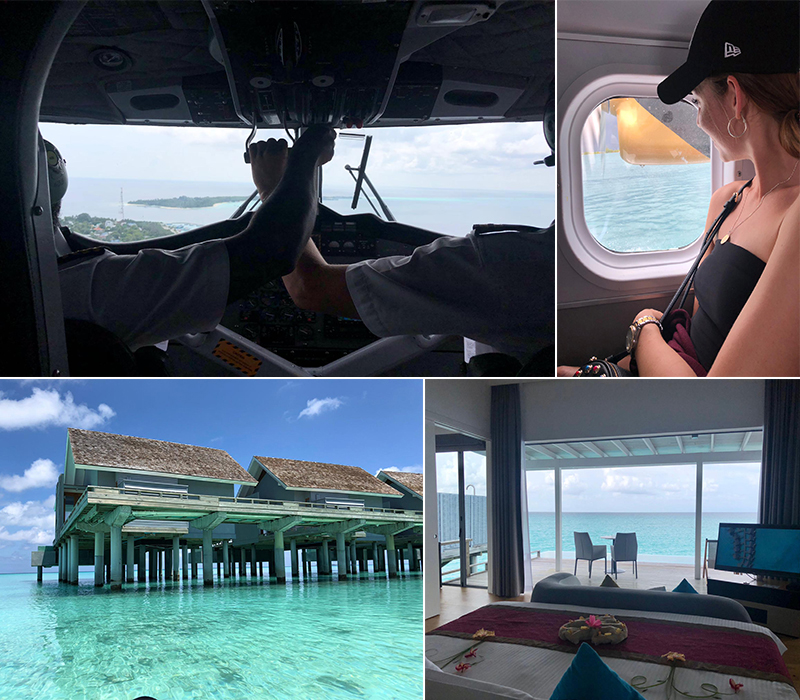 'We stayed in a Water villa with pool, on arrival it had been beautifully decorated for us with fresh flowers and a welcome message laid out.'
'Every morning, we would draw the curtains and wake up looking out at the stunning sea views. Most of our days after breakfast we would head back to our water villa for a relaxing morning which included laying on the loungers of our decking or taking a refreshing dip in the pool.'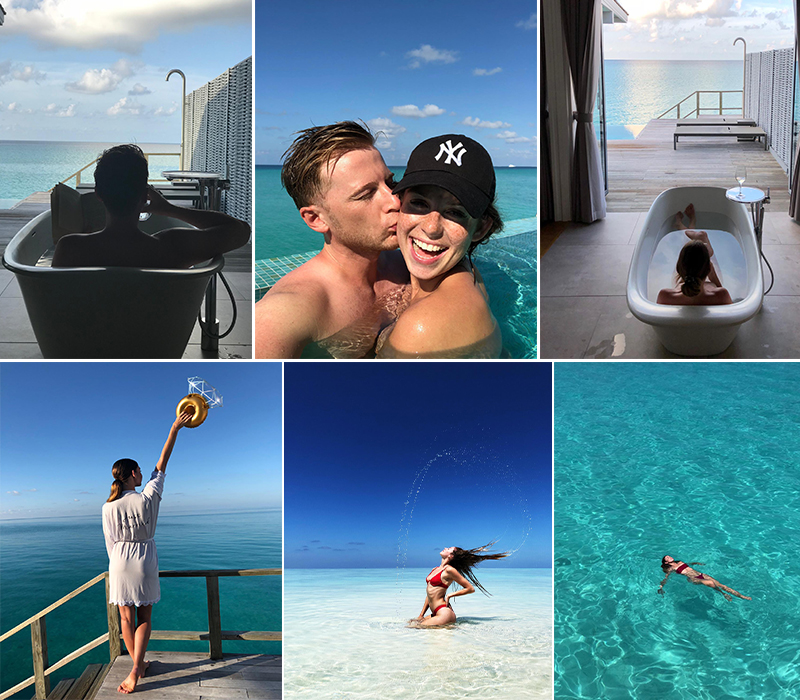 'You can do as much or as little as you like while you're there too, so some days we enjoyed relaxing in the pool, or playing cards while sipping cocktails, and other days we tried some activities, like taking out a glass bottomed kayak, and snorkelling.'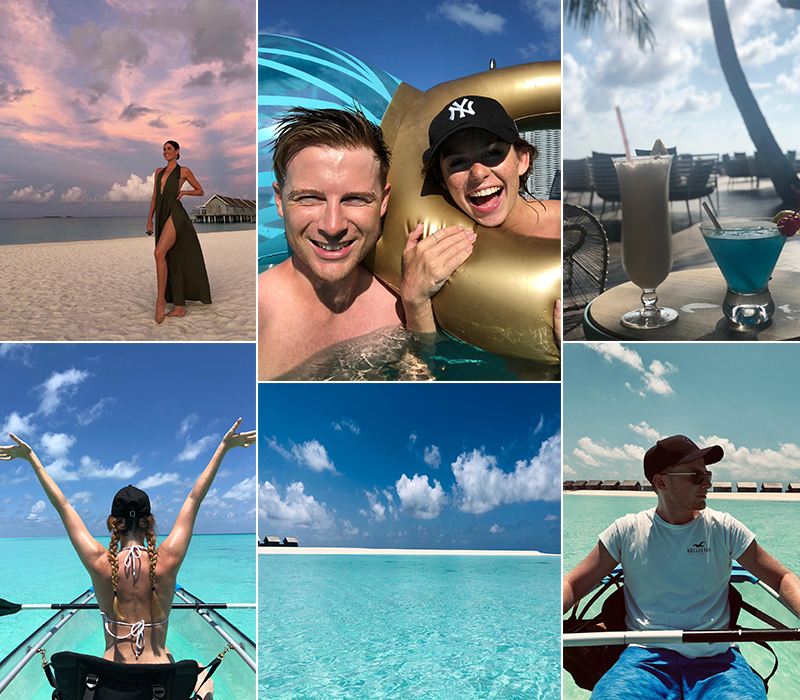 'We enjoyed finding different parts of the island to snorkel or take a walk through, and thought the choice of restaurants were superb. They really have thought of everything – one evening we settled down onto comfy beanbags right on the beach to watch a film next to the sea and under the stars, and were served cocktails to our beanbags – which was very romantic.'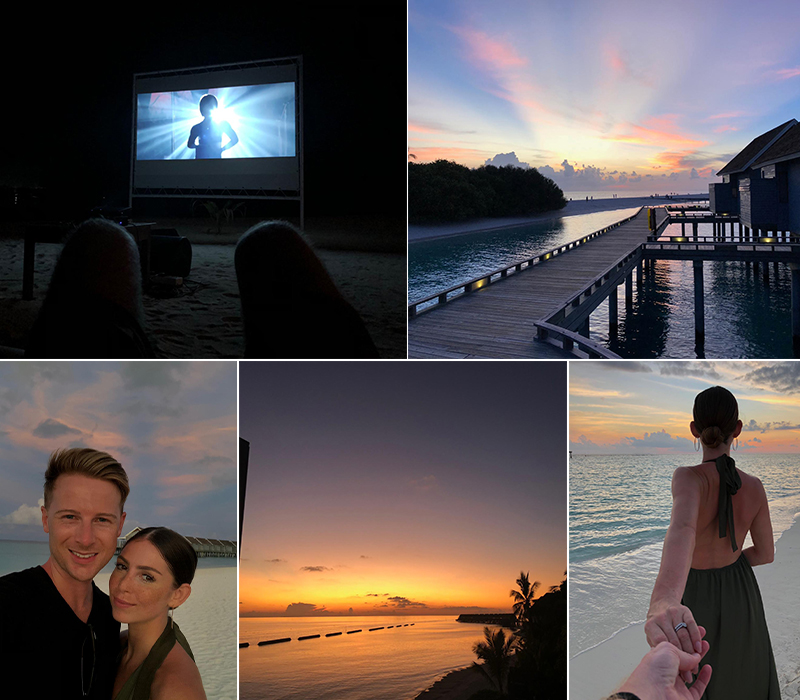 'In the Maldives, we totally relaxed and indulged. We soaked up the sun, swam in our pool, snorkelled in the beautifully clear sea (which we had access to from our water pool villa, a must-do), headed to the beach bar for a cocktail or two, experienced a sunset champagne cruise, watched the gorgeous sunsets every evening from the sandbank, and ate as much of the incredible food as we could! It was the perfect place to unwind and enjoy being together.'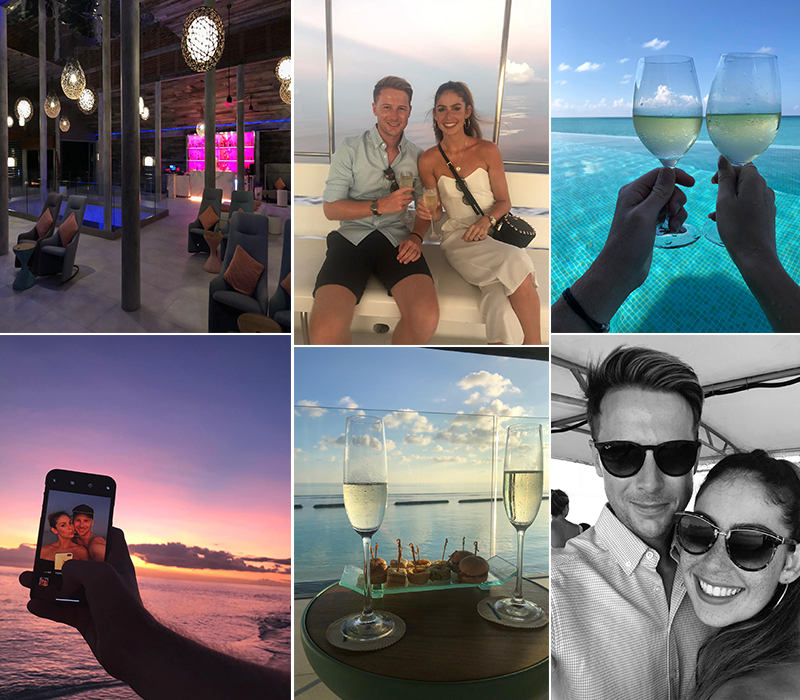 'The food we ate at the restaurants on Kuramathi was probably the best food we've ever eaten! For our breakfast we ate daily at the  'Inguru', where we watched the fish and reef sharks swimming around in front of us. Here we had so much to choose from starting each day in excellent form.'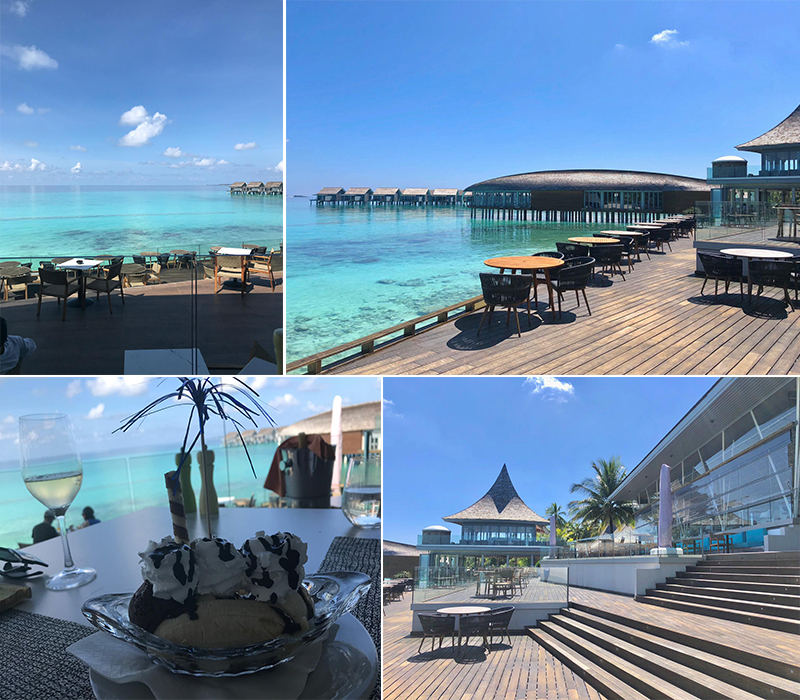 'As we had opted for the Select All Inclusive option on Kuramathi, we could eat at the à la carte restaurants for lunch and for dinner, and so we picked a new one to try each night. We would wander at each restaurant either on foot or by hopping onto a buggy which takes you from one end of the island to another, and enjoy more delicious food and drinks including the freshly caught fish and chips which was so good! Two that are very memorable are 'Kobe' which serves Japanese Teppanyaki to just 8 people at a time, and the 'Island Barbecue' which served food flambéed at your table. We went to each of these twice, as the food at both was just incredible. I feel like it sounds that we ate and drank a lot – but if you can't indulge on your honeymoon, when can you!'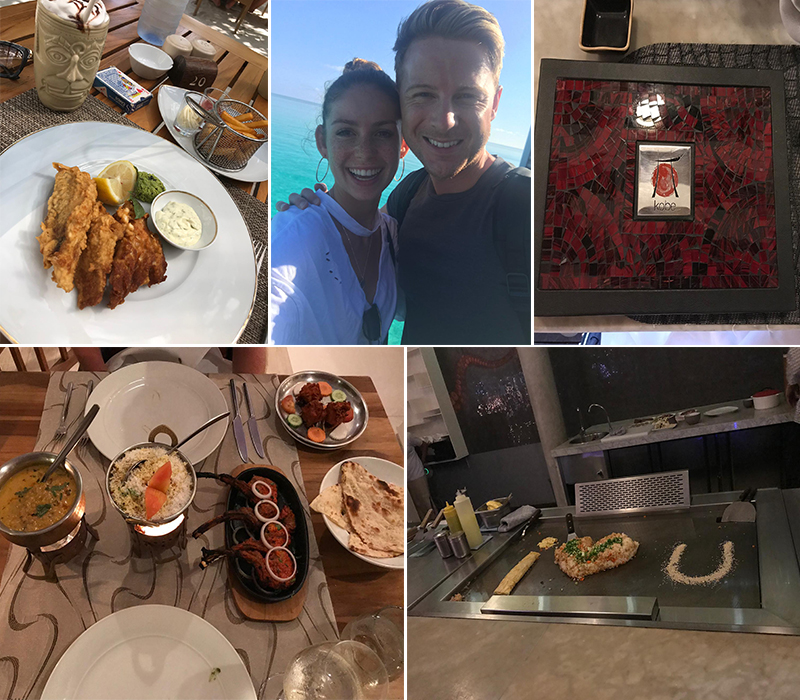 What were your impressions of Singapore and Maldives?
'We loved how welcoming both the people of Singapore and the Maldives were. In Singapore, we loved how all the greenery is intertwined into the gleaming buildings of the city, and especially how clean it is – what everyone says is true! We were amazed. And on that note, everyone was so right about the Maldives too; from the moment the plane began to circle the main island of Malé, we were blown away by all the shades of blue! We felt that Kuramathi really was the ideal honeymoon destination from lush trees, beautiful ocean views and white sandy beaches. We felt instantly relaxed from the second we stepped foot on the sand. Even the food we ate while in Singapore and the Maldives was great, so it's definitely hard to choose a favourite. Both destinations made a fabulous impression on us and we would love to go back to discover more of each amazing place.'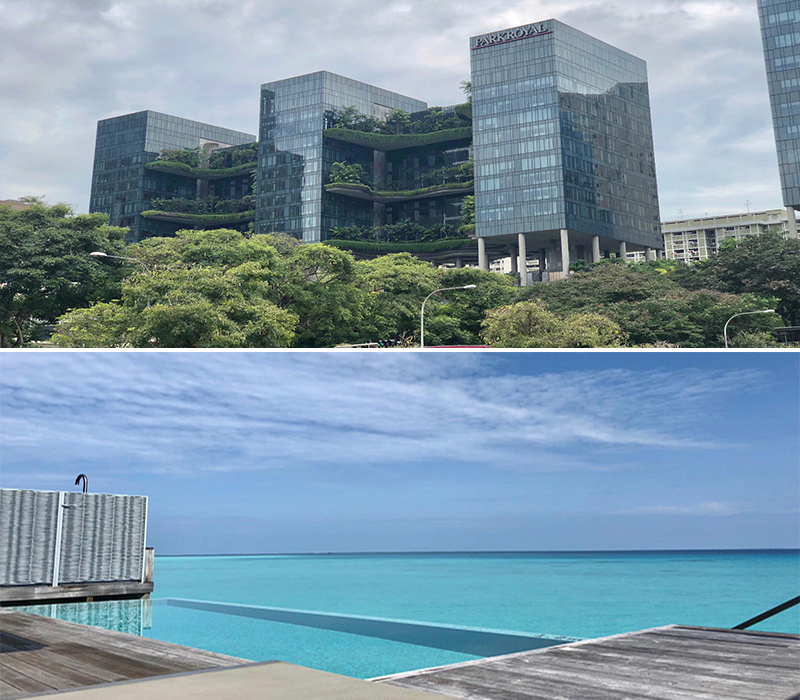 What were the highlights of your honeymoon?
'There were so many amazing highlights from our honeymoon – we made so many special memories. One night we sat out on the terrace of our Maldivian villa, listening to the calm waves and stargazed, we were lucky enough to see a shooting star. Landing in the sea on the seaplane was definitely an experience, and being ferried through the island of Kuramathi on arrival, through the lush trees to arrive at our villa was amazing. We were blown away by some of the sights in Singapore too like standing beneath the towering Marina Bay Sands for the first time. Another great moment was rowing our glass bottom kayak alongside the length of Kuramathi, and managing to navigate it together underneath our villa. Also, getting to sit together in a comfy chair and gaze out at the sea every day was really special too.'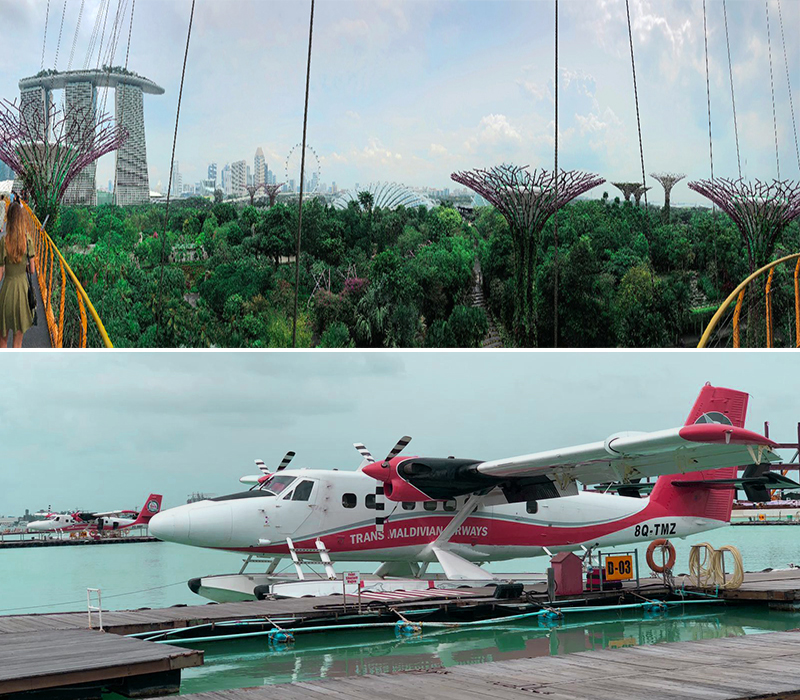 Any tips and recommendations for couples who would want to go to Singapore and Maldives?
'If we had any tips for honeymooners visiting Kuramathi in the Maldives, apart from remember your suncream, it would be to go there on Select All Inclusive if you can. The amount of delicious food and drinks on offer was excellent, and made our stay even more indulgent, also eating at Kobe! Make sure you snorkel, and check the times of the tide to plan it into your day. Definitely watch a film on the beach, and sit and look up at the stars.'
'When visiting Singapore, if you want to dine at one of the many restaurants at Marina Bay Sands, book before you get there as it's a popular place to be. At the Pan Pacific, try for a room with a marina view, it will not disappoint – promise. It is really something to wake up to every morning and look out over the amazing sights of Singapore. Also, if you're looking to spend a day at Universal, book the Universal Express ticket option, you fast track all of the queues and can make sure you get round all of the rides you want to try.'
How was the service that you received from your Travel Agent during your booking process?
'While all the people we met on our honeymoon were so helpful, we know it wouldn't have been possible without the guidance and help when booking from our travel agent Verity from Honeymoon Dreams. She was so efficient and quick to respond to any of our questions (we had loads!) and nothing was ever too much trouble for her. I would absolutely recommend for anyone booking a honeymoon to book with Honeymoon Dreams, as they helped cover things that we wouldn't have even thought of, and were on hand for anything even while we were away.'
Inspired by Robert and Samantha's amazing honeymoon experience? For more information about a honeymoon package to Singapore and Maldives, please contact us on 0121 440 6268.