Everything you need to know about Elephant Hills
Love nature? Love adventure? Love Elephants? If yes, then the hidden gem of Thailand, Elephant Hills is an absolute must for you and your loved one. Be sure to be steps away from an unforgettable eco experience. Venture away from the tropical beaches and into the lush rainforest jungle which boasts with jungle clad peaks, stunning limestone mountains, large lakes and amazing variety of flora and fauna. This luxury tented camp is Thailand's first consisting of two camps: The main camp and the floating rainforest camp situated in the heart of the Khao Sok National Park. Even though this place is home to a variety of wildlife such as hornbills, gibbons, eagles, gaurs, bears and may other wild animals. The main point of this whole romantic trip is to enjoy the guided tours and getting up close to the magnificent Asian elephants. You will get to feed them, clean them and watch them bathe but due to animal welfare you will not be able to ride them.
Not only that the guided tours do have a lot to offer from exploring the Khao Soks tropical rainforest, swimming in the emerald green Cheow Larn Lake or taking a safari kayak trip with the nature guide in search of wildlife. Therefore, it's the perfect honeymoon spot for you and your loved one to get outdoors and into the lush jungle for a great intimate adventurous experience and to create unforgettable memories. Read on to discover what Elephant Hills is all about….
Elephant Hills Location
Elephant Hills is located in Khao Sok in Thailand with Phuket and Krabi in the South and Koh Samui in the East. Despite being tucked away in the lush greenery of the tropical rainforest, these camps are easily reachable from the popular beach destinations like Phuket, Khao Lak, Krabi and even Koh Samui. The Phuket International Airport is only a two hour drive from Elephant Hills and pick up and drop transfers are available if needed. Along the way there is plenty of wildlife to spot in the park such as gibbons and hornbills and magnificent views.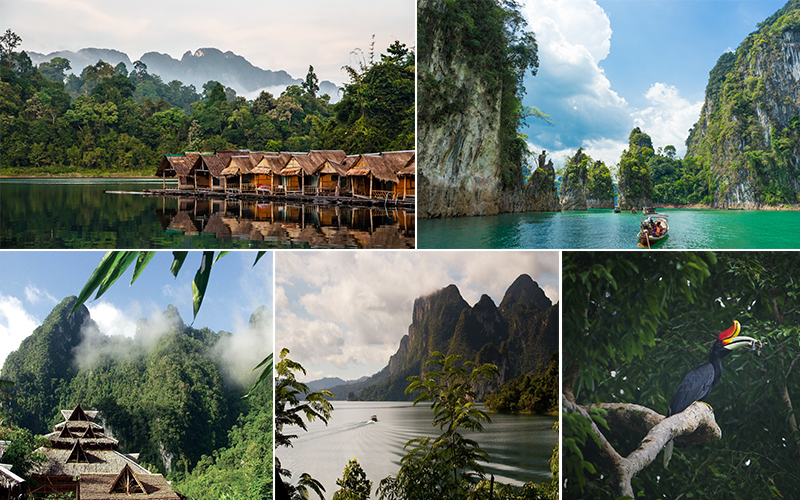 Luxury Safari –style Accommodation
Elephant Hills consists of two camps, the main camp has 35 spacious tents boasting with King or double size beds, en-suite bathrooms providing hot and cold showers and well protected by bugs. It is set amongst the rainforest and includes a swimming pool with stunning views of the spectacular limestone cliffs, an open air restaurant and bar with campfire creating a romantic and warm atmosphere.
However, the luxury rainforest camp has 20 floating rainforest tents each with 1 queen size bed sleeping 2 adults and 1 child and comes with a pair of Kayaks so you can explore the surroundings. They are situated on the emerald waters of Cheow Larn Lake and is one of the world's only luxury floating camps. These tents are designed to be at one with nature powered by wind and solar energy. Perfect place for you and your loved one if you're looking for peace and relaxation.
With two hours apart from each other and close to popular beach destinations, both camps are situated in the Khao Sok National Park in Southern Thailand.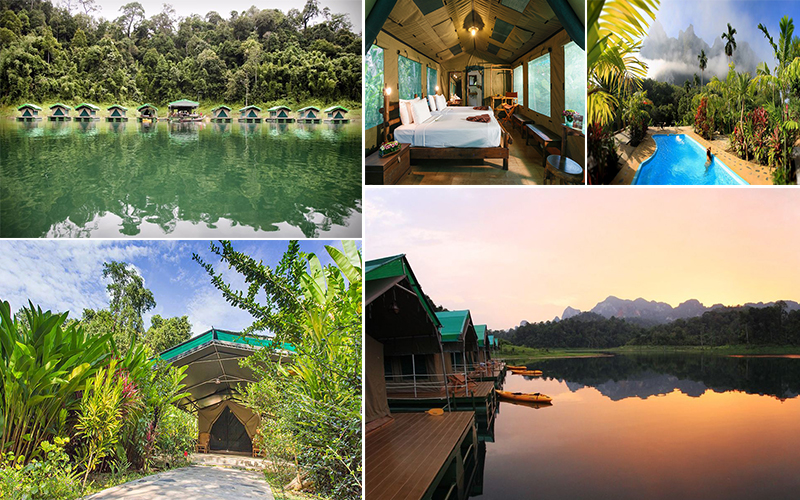 Dining
All meals are included in your stay at Elephant Hills, so expect delicious, freshly cooked Thai and international meals three times a day accompanied by evening entertainment and social seating. The main setting for these meals are in the main camp where you can meet other guests and share your experiences. After a long day of activities, enjoy a drink at the fully stocked bar with a choice of spirits, beers, cocktails and soft drinks. These are payable by cash locally.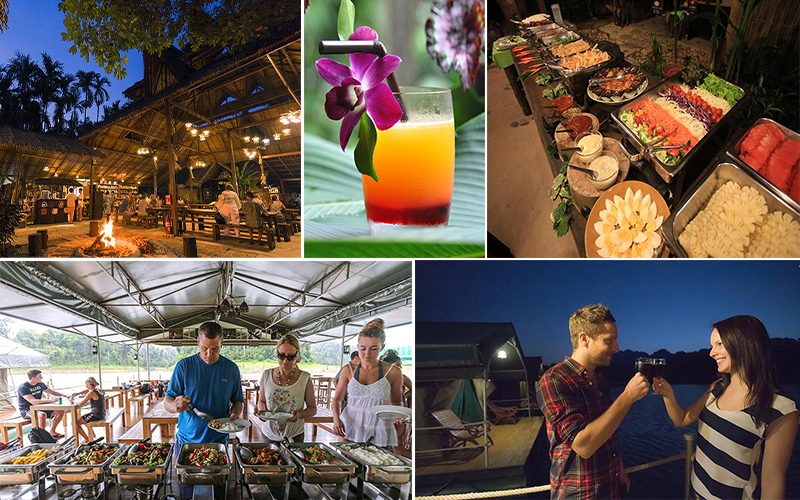 Activities and facilities
At Elephant Hills you will be able to get up close with Asian elephants and enjoy a fun and memorable experience. You will be able to interact with them, prepare and feed them, scrub and watch them bathe. However, for ethical reasons you will not be able to sit or ride on the magnificent animals.
There are other activities included such as long tail boats through Cheow Lan Lake, canoeing on the River Sok, jungle walk trekking and visits to local villages. Two to four day soft adventure tours in and around the beautiful nature area of Khao Sok National Park are on offer with a Thai tour guide. The Jungle Lake safari is highly recommended to experience both of Elephant Hills unique luxury camps. After a day spent on the safari you can share your experiences at the camp restaurant and bar and end your day retreating back to your own jungle tent. A romantic night at Elephants Hills adds a little extra to the adventure, put up a campfire to create an intimate and warm atmosphere and watch the sunset over the jungle. It is truly a once in a lifetime opportunity to experience the Asian Elephants and the perfect way to create wonderful memories together.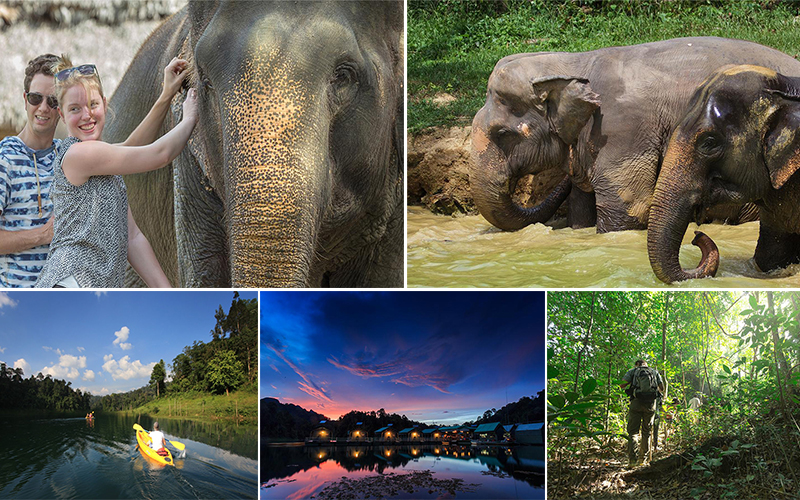 Weather
The Elephant Hills is in one of the wettest areas of Thailand. It receives about 3,500mm of rain per year, making the rainforest remain lush and green all year round. Due to this the tours are adapted to the possibility of rain. So if you are thinking of a romantic getaway to the secluded Elephant Hills remember to keep this in mind. The driest months to visit are December to March. The monsoon season is from May to October with downpours occurring once or twice a day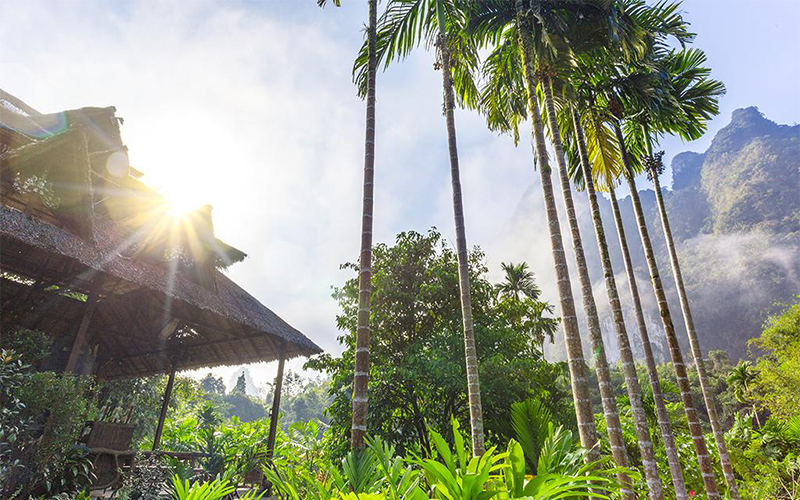 2 to 4 day Tour available
-2 days & 1 night Jungle safari for first time explorers, 1 night stay at the Elephant Camp
-3 days & 2 nights – Jungle Lake Safari
1 night at the Elephant Camp, 1 night at the floating Rainforest Camp
Day 1 –Transfer from airport or hotel to Elephant Hills Camp, then the amazing elephant experience – enjoy hands on ethical encounters with the elephants, feeding, washing and interacting with them. Then an evening of activities such as dance performances, cooking demonstrations and movie presentations.
Day 2 Spectacular Cheow Larn Lake – Visit a local market in Takhun to experience Thailand's rural lifestyle. Sightseeing in a longtail boat cruise on Cheow Larn Lake. Lunch at the Rainforest camp. After lunch a gentle jungle trek through the rainforest, then a overnight stay at the floating Rainforest Camp.
Day 3 – Jungle trekking on foot through the rainforest, then lunch and time to swim before return transfer to hotel or airport.
-3 days jungle safari includes 2 nights stay at the Elephant Camp
This tour includes the same wonderful Elephant Experience and cruise on Cheow Larn Lake. Lunch and enjoyment will be had at the rainforest camp but will return to the Elephant Camp for the evening. The third day will be full of adventure such as exploring the forest wonders on foot.
-4 days & 3 nights – Rainforest Nature Safari
3 stays at The Elephant Camp, day trip to the floating Rainforest Camp
This tour includes everything the same as the Jungle Lake Safari, with an additional day spent exploring the mangrove channels, taking a speedboat tour and then eating lunch on a traditional Burmese junk boat.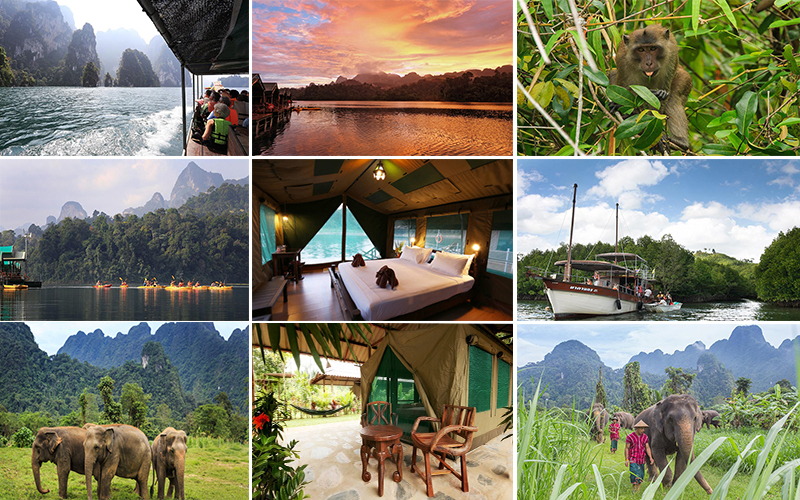 Can you imagine waking up to the sounds of the rainforest and getting up close to the Asian Elephants, then Elephants Hills is a must on your visit to Thailand! Contact us today to start planning your amazing Thailand honeymoon stay and tour.