Overview
Is a Bali honeymoon on your shortlist? The Indonesian island is considered to be one of the world's most romantic destinations. Showcasing a dramatic landscape which includes several active volcanos, beautiful beaches and coral reefs, as well as swathes of shrines and temples, it makes a stunning setting for post-wedding pampering. But there's much more to this honeymoon hotspot than luxury hotels and evening cocktails, so we've compiled our top 10 things to do in Bali.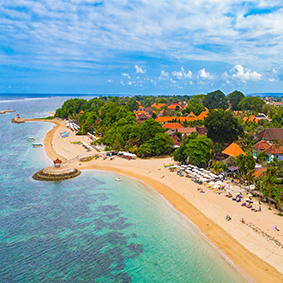 Stroll hand in hand along a beautiful Balinese beach
While Bali is home to lush emerald rice terraces, looming volcanoes, dense jungle and weathered stone temples aplenty, the island is also known for its incredible beaches – and for good reason. During your Balinese honeymoon you would be remiss if you did not spend at least some time walking, sunbathing or swimming on one of the island's picturesque beaches. From the 5km stretch of Sanur Beach, which is relatively tranquil, to the dynamic shores of Kuta or Seminyak and the hidden gems of Geger and the volcanic black-sand beach of Amed, there is truly a beach for everyone on the Island of the Gods.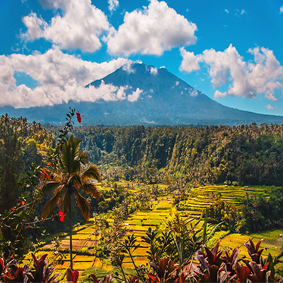 See the sunrise
Mount Agung and Gunung Batur are Bali's most iconic - and imposing - mountains. Towering above the tropical world below, both offer spectacular views of the island. Trekking to the top of either active volcano is far from a walk in the park, but the rewards are rich. Take your pick of tours that will guide you to one of the peaks during dry season, and add a romantic twist by traversing the terrain in darkness to reach the summit for a spectacular sunrise - where you can enjoy an authentic Balinese breakfast.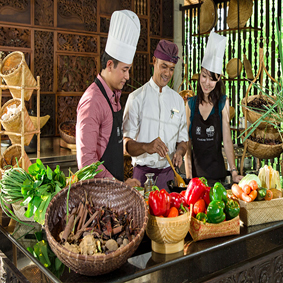 Private couples' cooking classes
Enjoy the taste of Bali with a Private cooking class where you'll be taken on an educational trip through Bali's produce and markets around helping you to create home cooked Bali cuisine. Share your love of food with your newlywed with a fun and unique experience where you can take home recipes to re-live your favourite Bali tastes. Choose from a number of culinary quests across the island, from private cooking parties for two to intimate classes in Balinese family homes, or even combine your cooking with an exciting market tour.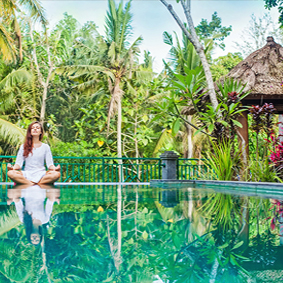 Yoga in Ubud
The beating heart of Bali, Ubud's creative, craft and wellness activities regularly draw newlyweds towards its charms. Unwind after your nuptials, and recover from the party, at one of the scenic town's popular yoga centres or retreats. Whether you know your hatha from your vinyasa, want to get the giggles at laughing yoga or are a complete beginner, there's something for everyone in this holistic haven. Just grab a mat and pick a studio that suits you - preferably with panoramic views of rice paddies, streams and coconut trees.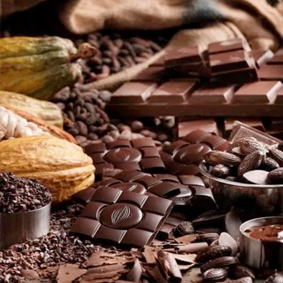 Sweet like chocolate
Hands up whose ideal honeymoon involves chocolate? Take a tour at one of Bali's chocolate factories or cacao plantations and see how beans turn into bars, while sampling something sweet yourself. Everyone needs a break from the beach at some point, and visiting the thriving chocolate production scene makes for a decadent couples' day trip.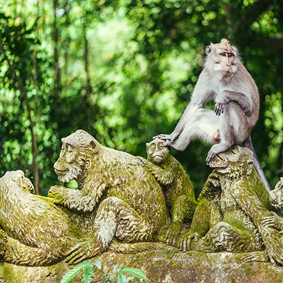 Monkey Around
The Sacred Monkey Forest Sanctuary, also known as Monkey Forest Ubud, is one of Bali's most famous attractions. Stroll through the sprawling forest, which houses around 700 long-tailed monkeys as well as three of the island's most prominent temples.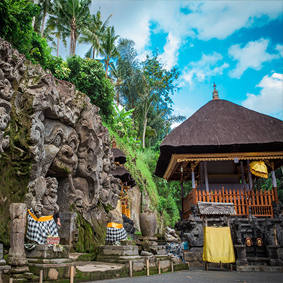 Elephant Cave
Visit Goa Gajah, the 'Elephant Cave', a spiritual site steeped in folklore. Explore the ancient complex, which features Buddhist and Hindu idols and is decorated by eerie carvings of stone faces, before immersing yourself in the striking scenery surrounding it.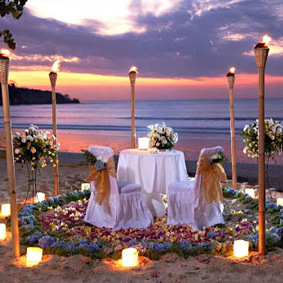 Romantic Sunset dinner
Nothing beats a cosy candlelit meal under the stars, and in Bali the experience is heightened by the balmy tropical warmth, by the stunning scenery and by the delectable exotic fare on offer. Private candlelit dinners can, in many cases, be arranged at your resort, but you may also want to opt for the Jimbaran seafood dinner. First you will get to visit the beautiful Uluwatu Temple, an iconic Balinese landmark, before savouring the breath-taking sunset and settling in for a delicious dinner of barbecued seafood on the beach.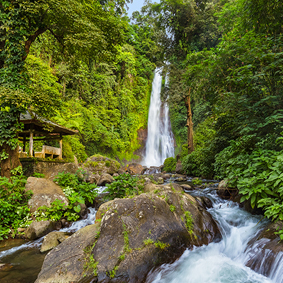 Walk to a waterfall
Not simply about sun, sand and sea, Bali is blessed with waterfalls, and what's more romantic or photo-worthy than a wall of tumbling water? Whether you want to stick with a local tour guide or get off the beaten track, there are plenty of falls to pick from. From the famous Gitgit to the lesser-known Banyu Wana Amertha, there's ample opportunity to bathe in crystal-clear lakes or navigate your way through lush jungle and caves.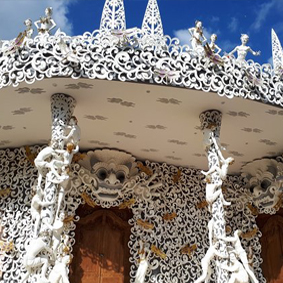 Silver and gold
One of the most unique things to do in Bali is to visit a silversmith or goldsmith. Thanks to the many jewellery showrooms that pepper the island, you can gain a fascinating insight into traditional techniques at a number of workshops, and even craft a personal piece for your loved one.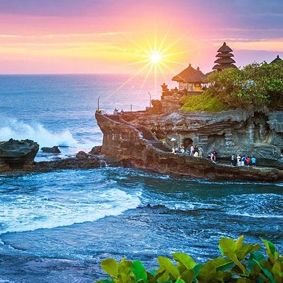 Be dazzled by some of the island's holiest sites
Bali is home to an array of exquisite old temples, many of them worn by sun, wind and rain but still managing to impart an overwhelming sense of grandeur, serenity and holiness. Three of the most spectacular are Uluwatu, Tanah Lot – perched on a weathered rock surrounded by crashing waves – and the largest temple of them all, Besakih, situated on the emerald slopes of Mount Agung. Consisting of numerous temples, shrines and sanctuaries, Besakih is a Bali must-see for couples who want to experience a taste of the island's rich culture and history.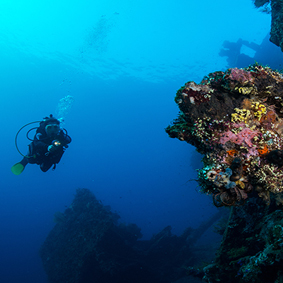 Dive a shipwreck
Bali boasts a great number of underwater sites for world-class snorkelling and diving - and none more famous than the USS Liberty Shipwreck. Home to an array of marine life, including hundreds of varieties of tropical fish, the sunken ship has shallow and deep areas suitable for exploration - meaning it's a delight for both beginners and experts alike, at day or night.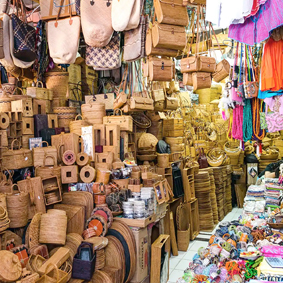 Purchase some delightful additions at the Ubud Art Market
If you're keen to pick up some beautiful mementoes of your unforgettable Balinese honeymoon head to the Ubud Art Market – where scenes from Eat, Pray, Love were shot – and spend a pleasant morning or afternoon shopping for artwork, woven baskets, scarves, hats and brass Buddha statues, each one guaranteed to be an exotic addition to your walls, your closet or your mantelpiece back home; not to mention a great talking point for when friends and family come to visit!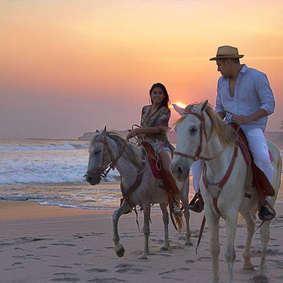 Horse-back riding on the Beach
Seeing the sunset and sunrise are a must-do on your honeymoon, why not take it up a notch and watch the beautiful sky transform into bursting hues of warm colours while taking a romantic stroll on a horse side-by-side with your partner. This is an experience you will not forget and it's truly romantic.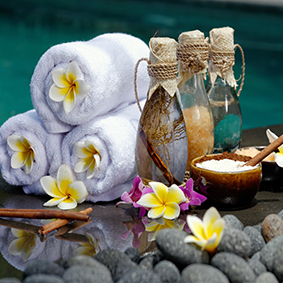 Create your own romantic scent
Enjoy the art of fragrance creation in Bali where you can infuse your favourite scents – be that your husband or wife's favourite flower, chocolate or essence. Have fun testing out different scents to create the perfect combination of perfume to treasure back home. After the hard work has been done, you will be rewarded with a diploma to show off your perfume-making skills.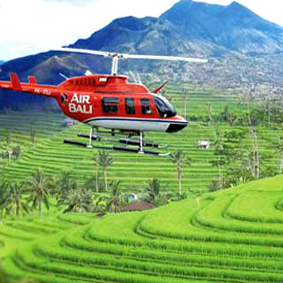 Hop on a Helicopter
Take in the views of Bali from new heights on a helicopter ride where you will see the highland lakes, smoking volcanoes, towering cliffs and the beautiful beaches. Choose from different tours from Kintamani, Agung Volcano & Besakih Temple from above or a Sundowner Flight to experience the magical sunset while up high viewing the best of Bali.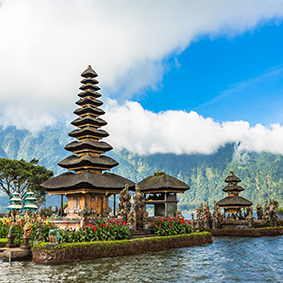 Relax by Lake Batur
Sit back and relax with the view of Lake Batur, from volcanic caldera with its deep crater lake and bubbling hot springs, is rugged with a high and wild beauty. Take a romantic picnic basket along with you and some sparkling white to make the moment even more magical.